---
---
super gelaufen, einwandfreie Ware, entgegenkommender Verkäufer, Danke!
---
---
tres tres satisfait tarif rapidite tout est bien
---
Drittes Reich Eisenguss-Plakette, Lauchhammer, v. Hörnlein, a.d. Russlandfeldzug, Hitlerzitat Plakette 1941 EF

Seller:
Münzen & Medaillen-Galerie Köln, Knopek OHG

Price:

229,00 EUR




199,00

EUR

Discount:

30,00 EUR

/ 13%

Add to cart:
Price includes 19 % tax (VAT/GST/MwSt).
Prices are subject to shipping and handling fees
Condition:

EF

|

Delivery time: 5 - 8 workdays
Description
Drittes Reich Plakette 1941
Grade: EF | Abbreviations
Material: non-precious
145 x 90mm, mit Zitat von Adolf Hitler, Hitler Zitat; selten!

Einseitige Eisengußplakette 1941 (Lauchhammer). Russlandfeldzug . Auf Felsen stehender Adler über 5 Zeilen Hitlerzitat / Aufhängevorrichtung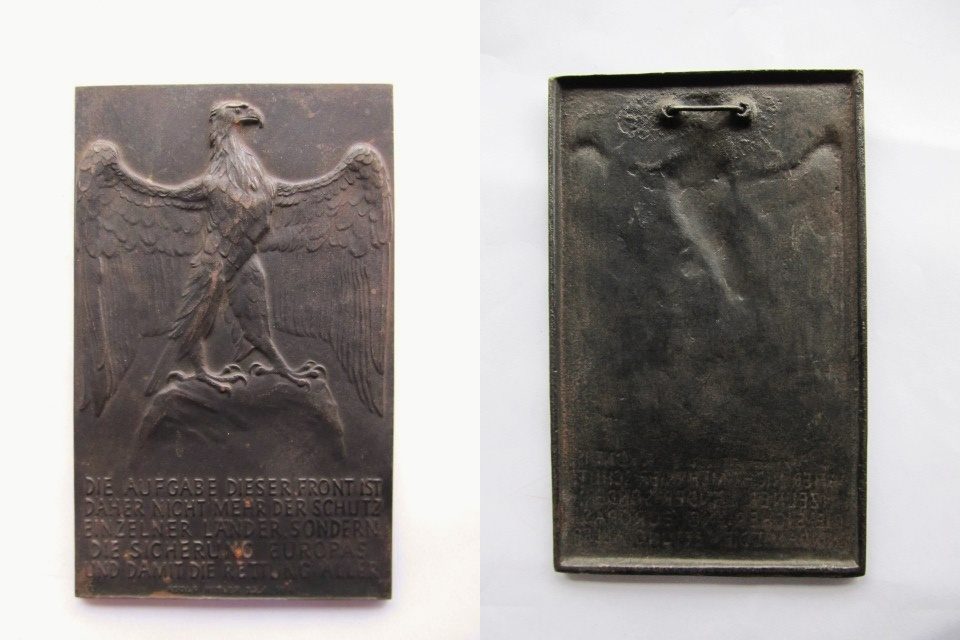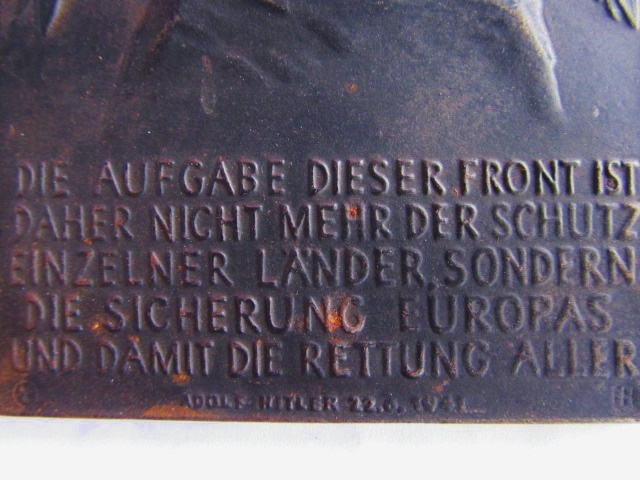 Important payment information for customers who live outside the European Union:

ACCORDING TO PRIOR AGREEMENT we offer payment through PayPal™ for selected customers who live outside the E.U. Please, contact us BEFORE buying!

In case of paying by bank transfer, customers (who live outside the E.U.) have to ensure that the total billing amount will be credited our account. They have to ensure that any fees that may arise will be paid by them.
Link to this item:
Shipping fees
Country
up to

100,00 EUR

100,00 EUR

to

500,00 EUR

500,00 EUR

to

1500,00 EUR

over

1500,00 EUR

Germany

5,00 EUR

7,00 EUR

7,00 EUR

Free shipping
European Union, other countries

15,00 EUR

15,00 EUR

15,00 EUR

15,00 EUR

World, other countries

15,00 EUR

15,00 EUR

25,00 EUR

25,00 EUR