---
schnelle Lieferung, Qualität wie angeboten - danke !
---
Coin delivered exactly as promised, promptly, and with courteous service...
---
---
Great seller recommended.
---
USA Large Federal Reserve Note, Lincoln. White-Mellon, New York, Fr. 851A 5 Dollars 1914 Very Good
Description
USA 5 Dollars 1914
Grade: Very Good | Abbreviations
Catalog: KL 279, FR 851A
United States of America / Vereinigte Staaten von Amerika
5 Dollar 1914 Large Federal Reserve Note - Lincoln, Very Good

Signatures / Unterschriften: White-Mellon
Serial number / Seriennummer: b65391794b
Catalog numbers / Katalognummern: Krause 279, Friedberg 851A
Seal / Siegel: New York

Grade / Erhaltung: VG (Very Good)

I am a part-time coin dealer since 8 years and started with U.S. paper money over two years ago.
Genuinity of all items is guaranteed.

Shipping to the USA: The shipping fees indicated in the shopping cart include 200$ insurance.
Further insurance is possible, but you have to pay a part of the additional shipping fees for an insured parcel.
Shipping for additional banknotes is free, buy several notes and save on shipping!

Weitere Details auf Deutsch: auf Anfrage. Der Versand innerhalb Deutschlands ist für Papiergeld kostenlos!




Minimum order value: 10 EUR

I buy american banknotes up to 1928. Please contact me if you are living in the EU and own a collection you would like to sell.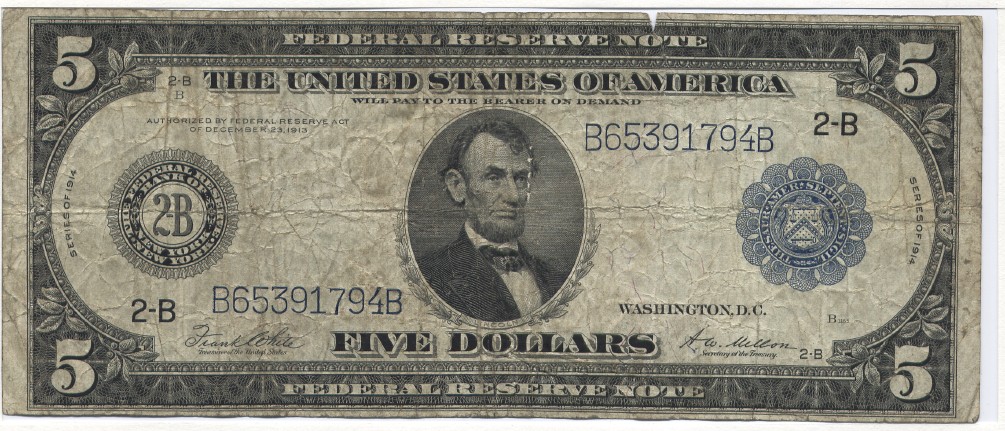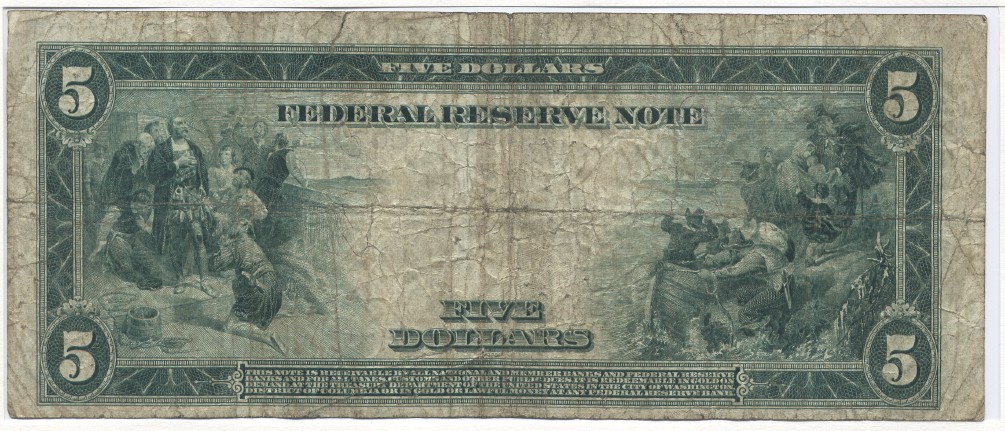 Link to this item:
Shipping fees
Country
up to 21 g

21 to 50 g

50 to 500 g

500 to 1000 g

1000 to 2000 g

2000 to 5000 g

over 5000 g

over 250,00 EUR

Germany
Free shipping

2,50 EUR

3,75 EUR

4,50 EUR

4,50 EUR

4,50 EUR

7,00 EUR

Free shipping
European Union, other countries

4,00 EUR

5,00 EUR

7,00 EUR

11,00 EUR

20,00 EUR

20,00 EUR

40,00 EUR

n/a
World, other countries

6,00 EUR

6,00 EUR

7,50 EUR

12,50 EUR

22,50 EUR

50,00 EUR

75,00 EUR

n/a