---
Schnelle Lieferung. Sicher verpackt.
---
Zuverlässiger, seriöser Anbieter mit kurzer Lieferzeit. Gelieferte Ware...
---
---
---
Deutschland Fußball WM 2006-Die Fußball-Weltmeister,7 Nationen in Kapsel&Zertifikat&Holzetui Medaillen Proof
< / b>20Ø

Seller:
MÜNZHANDLUNG WITTE

Price:

1250,00

EUR


Add to cart:
Tax included, this item is subject to margin tax.
Prices are subject to shipping and handling fees
Condition:
Proof
< / b>20Ø |

Delivery time: 5 - 8 workdays
Description
Deutschland Medaillen 2006
Grade: Proof
< / b>20Ø | Abbreviations
Mintage: 1 000
7 Goldmedaillen 585/1000 Gold, 3,58 g.roh, 2,09 g.fein,pro Medaille zusammen 25,06 g. roh, 14,63 g. fein.im exclusiven Holzetui & Zertifikat Die Fußball-Weltmeister: Deutschland-Brasilien-Italien-Argentinien-Uruguay-Frankreich-England Die offiziellen deutschen Gold-Gedenkprägungen der FIFA Fussball-Weltmeisterschaft Deutschland 2006 Es ist das erste und einzige Mal,dass Gold-Gedenkprägungen im Rahmen einer offiziellen deutschen und vollständigen Collection zu Ehren der bisherigen 7 Nationen herausgegeben wurden,die jemals eine FIFA Fussball-Weltmeisterschaft gewonnen haben. Alle Gold-Gedenkprägungen dieser einzigartigen Sammlung zeigen auf der Rückseite die begehrteste Trophäe des Sports, den FIFA WM-Pokal. Die Ausgabe ist weltweit auf nur 1.000 komplette Collectionen streng limitiert.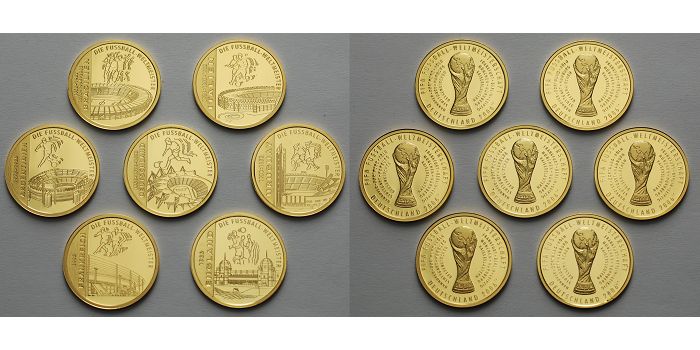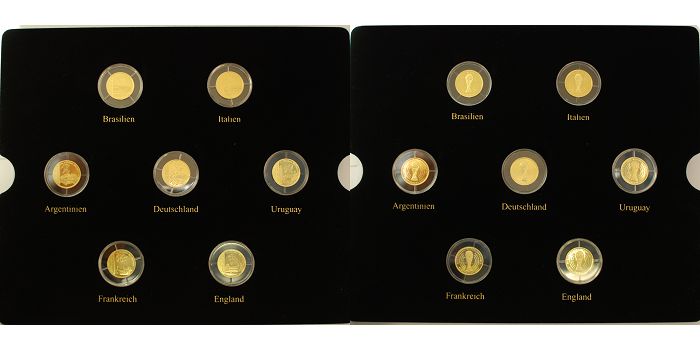 Link to this item:
Shipping fees
Country
up to

10,00 EUR

10,00 EUR

to

25,00 EUR

25,00 EUR

to

500,00 EUR

over

500,00 EUR

Germany

8,00 EUR

3,60 EUR

5,00 EUR

Free shipping
European Union, other countries

11,00 EUR

7,00 EUR

17,00 EUR

23,00 EUR

World, other countries

15,00 EUR

11,00 EUR

35,00 EUR

42,00 EUR

Cash on delivery fee :

7,50 EUR

plus 2 EUR delivery fee